They're not smartphones. They're not regular feature phones, either. Perhaps the best way to describe "smart" feature phones is that they're feature phones with internet and apps.
On feature phones, all you can do is make calls and send texts. Smart feature phones, on the other hand, offer advanced functionalities: beyond calling and texting, you can read the news, play games, connect with friends on Facebook, and more.
But if these devices connect to the internet, what makes them different from smartphones? What features do they have? And, in a world ruled by smartphones, why do feature phones, however smart, matter?
In this guide, we'll answer these questions and more.
What's a smart feature phone?
Smart feature phones are a hybrid of feature phones and smartphones. They look and feel like feature phones, but have smartphone functionalities, including multimedia and internet capabilities.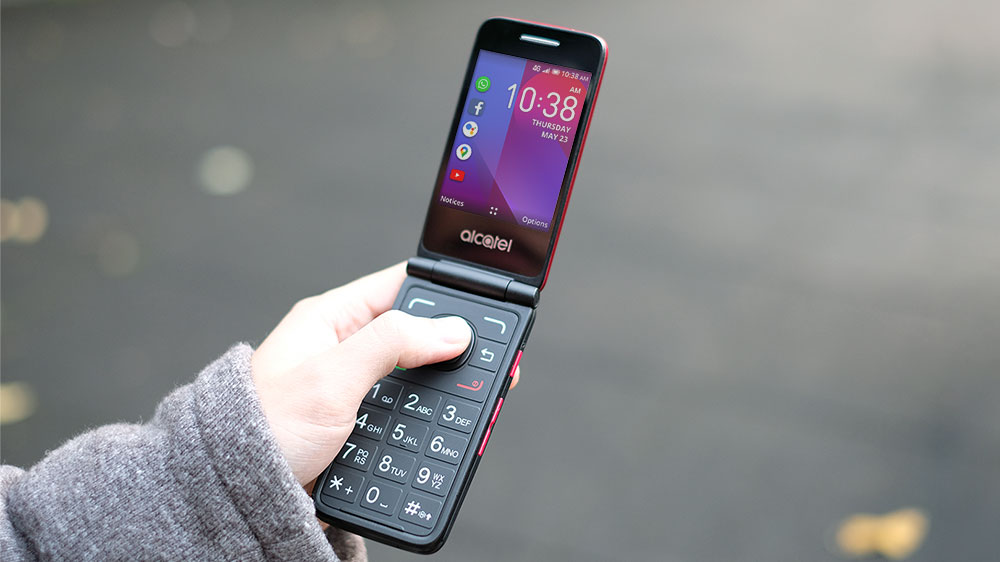 Hardware
Because they are nontouch devices with little memory, smart feature phones cost less to produce than smartphones. Not having large touchscreens also makes them more durable and resistant to impact, which means they last longer than smartphones.
The components of smart feature phones include:
Battery

SIM card slot

SD card slot

Camera 

USB port

Microphone & speaker

Flashlight
Additional components might be available depending on the phone model.
Software
Like smartphones and feature phones, smart feature phones run mobile operating systems (OS).
The mobile operating systems of smart feature phones are lightweight to adjust to the limited random-access memory (RAM) in these devices, which can be as low as 256MB.
Features
Though smart feature phones may look retro, they have the essential features you'd expect from modern devices, including:
Wi-Fi, 3G/4G/LTE, VoLTE

GPS

Bluetooth

Voice-user interface

App store

Over-the-air updates

Calendar

Clock

Email

FM radio

Ringtones
Additional features, such as WhatsApp, Facebook, YouTube, and Google Assistant, might also be available depending on the phone model.
Interface
Despite their small screens and keypad navigation, smart feature phones aren't difficult to use. UX designers are continuously searching for ways to create more screen space and optimize navigation on smart feature phones.
Production of smart feature phones
Mobile OS development companies partner with local carriers and original equipment manufacturers (OEMs) to bring smart feature phones to life.
They lay out the plan for what's possible on smart feature phones, leaving carriers and manufacturers to decide how to execute the plan to best meet the needs of their target customers.
A mobile OS's support for features isn't a guarantee of their implementation. For example, although KaiOS supports near-field technology (NFC) for payments, manufacturers might choose to leave out this feature in some KaiOS devices.
Smart feature phone types
Smart feature phones can be divided into four types:
Smart feature phone users
Smart feature phones aren't for everyone, but meet the needs of niche customers, including:
Low-income individuals priced out of the smartphone market
Older adults with a preference for simpler interfaces and physical keyboards
Manual laborers and people who practice outdoor activities
Organizations that need simple, affordable internet-enabled devices for work
Individuals looking for a companion phone
There's a growing demand for smart feature phones worldwide, especially in emerging markets.
Importance of smart feature phones for digital inclusion
With prices starting as low as $11 USD, smart feature phones are crucial for advancing digital inclusion. In India, the JioPhone has helped hundreds of thousands of people get connected.
In addition to being affordable, smart feature phones are also more accessible to first-time internet users, including those who can't read or write.
For these reasons, they are becoming increasingly popular even among those who have been traditionally excluded from the digital world, such as farmers in remote villages in Africa.
KaiOS and smart feature phones
Built by KaiOS Technologies, KaiOS is a web-based mobile operating system developed exclusively for smart feature phones. Over 100 million smart feature phones in over 100 countries worldwide run KaiOS.
In addition to developing the OS that makes affordable internet-enabled devices possible, KaiOS Technologies also works to increase digital literacy and access to meaningful connectivity around the world.
Conclusion
Smart feature phones look and feel like feature phones. But unlike average feature phones, "smart" feature phones connect to the internet and offer access to apps.
Simple, durable, and inexpensive, these hybrid devices cater to niche customers, including low-income individuals in emerging markets.
Their affordability makes them essential to closing the digital divide.