It is official – smart feature phones, many of which are powered by KaiOS, have earned a spot in the mobile ecosystem based on the extraordinary growth – and it isn't showing any signs of slowing. According to a new report from Counterpoint Research, nearly 370 million smart feature phones are expected to be sold across the world between 2019 and 2021, representing a $28 billion opportunity. Software and services alone will contribute 71 percent, or around $20 billion, of the near-to-mid-term revenue.

These projections have a lot of implications for consumers and the industry alike.
Thirty-four percent of the world's population aren't subscribed to mobile services and 57 percent don't use mobile internet due to price point and lack of access. It's these users that smart feature phones benefit the most.
Consumers no longer need to choose between budget smartphones or feature phones with limited functionality. Smart feature phones represent an entirely new category of devices that havethe power to guide the more than two billion feature phone users toward more advanced, efficient technology.
KaiOS and our partners have been driving forces in bringing the smart feature phone segment to life. We developed our platform with emerging regions and niche user groups in mind, from those priced out of the existing market, to others looking for an alternative to smartphones. There's a huge demand for reliable, affordable technology in regions like Asia, Africa and Latin America where more sophisticated devices are just too expensive and basic feature phones are just that, too basic.
Alternatively, groups like seniors want devices that are easier to use without losing core functionality such as access to the internet, social media, and utilities. There's also a segment of users that require more durable devices or even companion phones to accommodate their lifestyle or professional needs.
That's a lot of people that KaiOS can serve.
The impacts go beyond consumers too; these smart feature phones can facilitate a host of business and revenue opportunities for the entire mobile ecosystem. The devices will be integral to enabling operators to upgrade networks from 2G/3G to 4G, which had previously been nearly impossible given users were restricted by price point and selection to less efficient 2G phones. Further, as more consumers transition to 3G and 4G phones, operators will have the opportunity to increase voice and data revenue, or even retool their data offerings.
Reliance Jio is a great case study showcasing the success, reach, and impact of KaiOS-powered devices. After adopting the KaiOS platform, Reliance Jio acquired tens of millions of 2G feature phone users and transitioned them to its 4G network. Consumers found the phone appealing because it was a fraction of the price of an entry-level smartphone but offered curated apps and robust functionality like Twitter, Facebook, WhatsApp, and Google Assistant.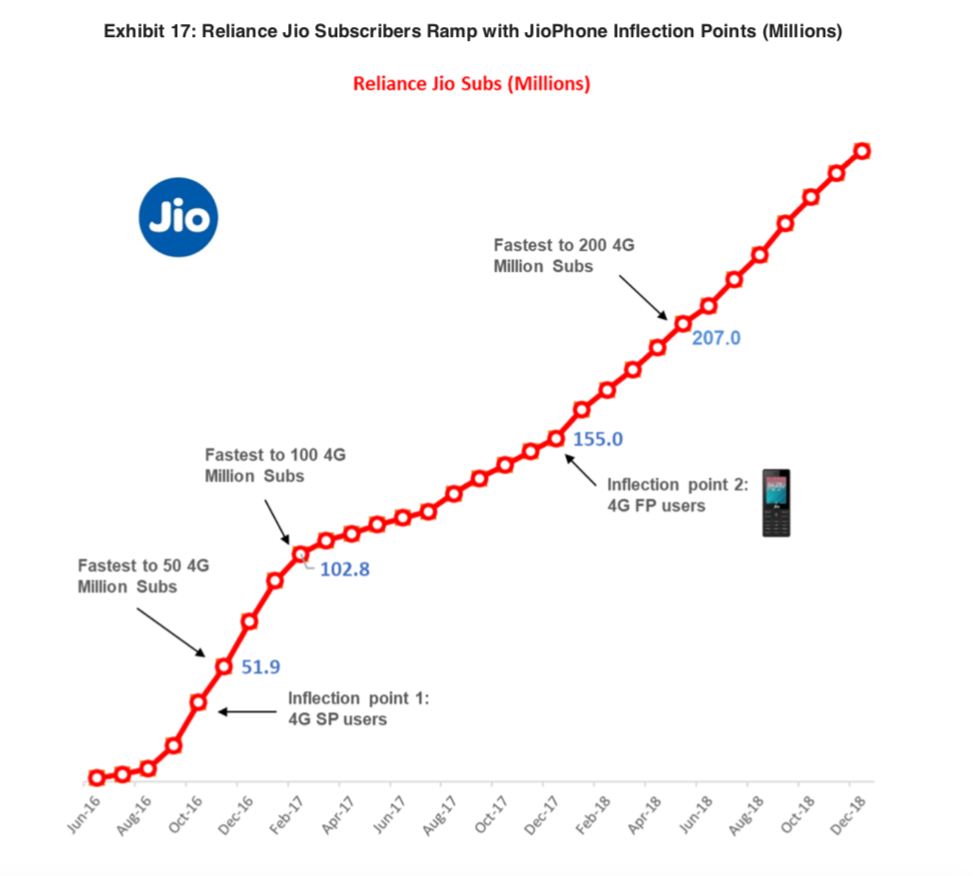 According to Counterpoint, out of the more than 100 million subscribers Reliance added since the launch of the Jio Phone in late 2017, the KaiOS-powered device accounted for almost half of those net additions.
App developers, content creators, and commerce players will also reap the rewards of smart feature phones. With a new vehicle to reach a previously untapped market, the door opens in terms of generating more downloads and engagement, and offering hyper-tailored services that meet the needs of local communities. In Africa, for example, localized content like livestock tracking and mobile payment platforms have been highly impactful, and there's room for even more solutions as more of the world's population is able to access the internet. Additionally, advertisers can now access this once untapped market with their ads, while users receive free data in return of the ad content.
According to Counterpoint's research, India, the Middle East, and Africa will continue to drive the most sales of smart feature phones, but there's still global opportunity. "The feature phone market has continued to grow over the last three years. This contrasts with the smartphone market, which slowed to negative growth in 2018 for the first time ever."
We're thrilled that KaiOS has helped enable digital inclusion across the world, and will continue to focus on the expansion of widespread access to mobile internet and advanced digital services. Alongside our valued partners, Kai has already made important strides this year, and it's only just begun.